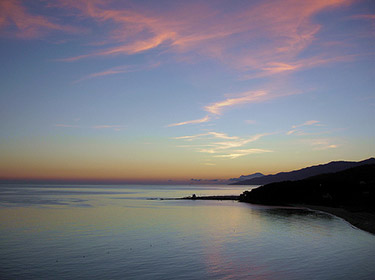 Our Island, Ikaria, was named from ancient times by the myth of Icarus who according to Greek mythology was the first man to fly in harmony with the laws of physic.
Ikaria is well known for its traditional, strong red wine which was also mentioned by Omiros as 'Pramnios wine'. The island is mainly covered by heavy vert consisting mainly of pines, arbutuses and briers with plenty of fresh water available. At the west side we find the forest of Ranti, one of the most important and oldest Mediterranean prehistoric forests available. There are also rare and unique species of fauna and vegetation in the island, which include the lizard 'korkofilas'. Among the rest of the local fauna perhaps the most well known species is that of the domestic semi-wild goats that live freely in the Icarian mountains and are the cause of instability of the islands vegetarian ecosystem due to the species overpopulation and consequently overgrazing.
There are two ports in the island, the first located in the capital of Agios Kirikos and the second in the graphic and ampitheatric Evdilos. There is also an airport available in the area of Faros, also very close to the capital of Agios Kirikos. The most touristic developed area of the island is that of Armenistis, with its picturesque bay and small taverns and bars.
What to expect to find in the island:
–    Carelessness, patience and easygoing in almost all local behavior and attitude. It is rumored that this life style is what has led the Ikarian population to have the longest life expectancy in Europe. Perhaps the best way to get to know this local life style is through the traditional Ikarian festivals which are the most well-known festivals in Greece. Lean and prudent while warm and cheerful, the Ikarian festivals seem to have found the recipe of success with no small contribution from the traditional strong red wine!
–    Very good, economic food and drinks as well as local, traditional products
–    Beatiful beaches. Two of the biggest and most beautiful beaches of the island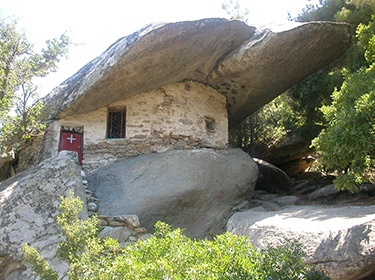 Mesakti and Livadi, are located in the same bay with Armenistis.
–    The church of Analipsis, floating over the waves in a small pattch of land which is probably the logo of Ikaria
–    Two graphic monasteries. The first one is the monastery of Mounte (Evangelistrias) constructed back in 1460 and the second one is the monastery of Theoktisti, which has been constructed under a huge rock that appears to be suspending and ready to fall.
–    Our well known thermal baths, named Therma
–    Unique and ancient treks with breathtaking view